2012 Mazda3
By Antony Dickson
Ever since Mazda began making cars, it always tried to be different from its Japanese counterparts. It was during this effort that Mazda began the 'rotary revolution' by developing the Wankel rotary engine. This saw Mazda gaining an edge over the competition and a huge fan following. But it all came to an end last year when Mazda announced ceasing production of the RX-8, the last rotary-engined Mazda car, that sent all the rotary rats into mourning. However, amid conflicting reports, Mazda officials say there's an all-new rotary engine in the pipeline.  But until then, Mazda has another trick up its sleeve.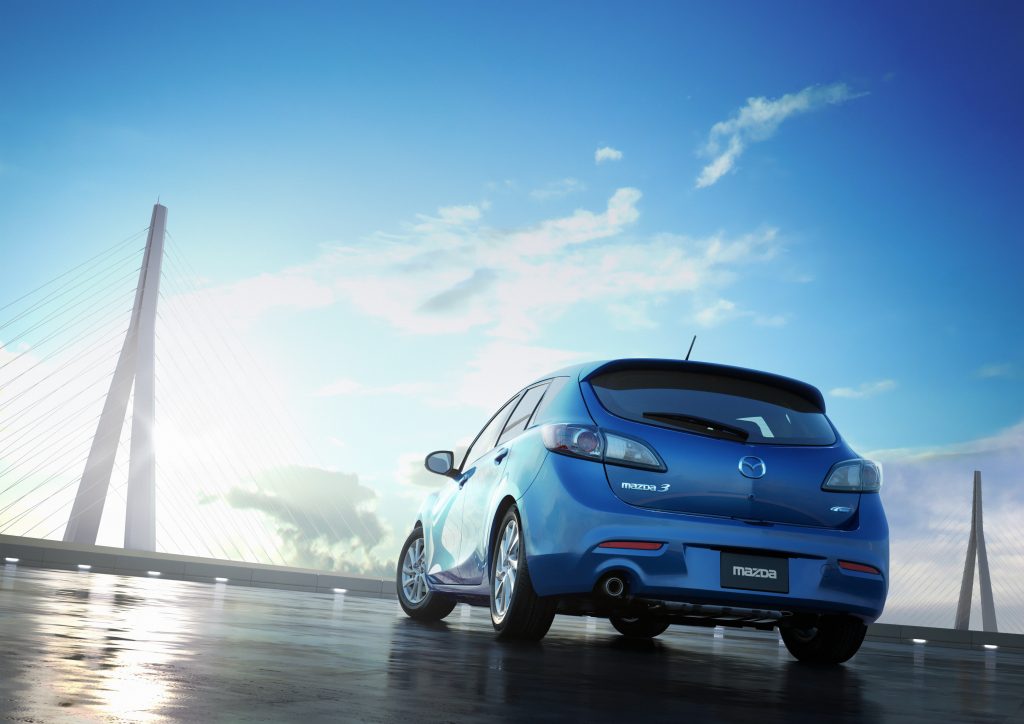 In a race among auto manufacturers to come up with fuel saving engines without sacrificing performance, Mazda has come up with their own technology called Skyactiv. And no, this is not their idea of an hybrid or an electric engine. This engine makes its debut in Mazda's best seller, the Mazda3. The 2012 Mazda3 has undergone a minor facelift on the exterior, but has a whole new heart with the Skyactiv sitting under the hood. Mazda claims increased fuel efficiency and a five percent increase in power with the Skyactiv that pumps out 155 horsepower at 6000 rpm and 148 lb-ft torque.
Mazda's zoom-zoom character still lives in the new Mazda3. On the highway, overtaking moves could be a little sluggish, but in comparison to the competition, the Mazda3 has a definite edge. Fuel efficiency was in fact very impressive and I averaged about 8.2 litres/100 km in combined city/highway driving. This makes it a perfect choice in these times of insane gas prices if your not into hybrids or electric vehicles.
Our tester, the Mazda3 Sport GS Skyactiv, was a manual. The low-friction transmission made the upshifts and downshifts crisp and smooth. It's a driver's delight without doubt. To add to that, the chassis has been tweaked a little and offers almost sports-car like handling. But when you have good handling, the ride obviously gets a little stiffer. And so is the case in the Mazda3.
The Mazda3, despite being the good looker it is, has still undergone a facelift for 2012. The redesigned grille allows better airflow management and gives an impression of a wider grin than its predecessor. On the inside, a new instrument cluster is the most significant change. The no-nonsense dash is easy to read and control knobs at easy reach from the driver. The Mazda3 is equipped with a good sound system and Bluetooth connectivity.
The Mazda3 can seat four comfortably. A fifth person could squeeze in the rear, though it would be a tight fit. Leg room is very good in the rear seat even for taller persons. When it comes cargo space, a baby stroller and your weekly groceries are easily accommodated.
Other features in the new Mazda3 include rain-sensing wipers, automatic headlights, 16" alloy wheels, tilt and telescopic steering, power windows with one-touch driver's down, heated front seats, leather-wrapped steering wheel and shift knob, keyless entry with trunk release, ABS with electronic brake force distribution, traction control system, front, side and side curtain airbags.
Overall, the Mazda3 is great value for money. The Mazda3 is priced at $21,090 as tested. It's a car that combines fun, appeal and sensibility into a single package.